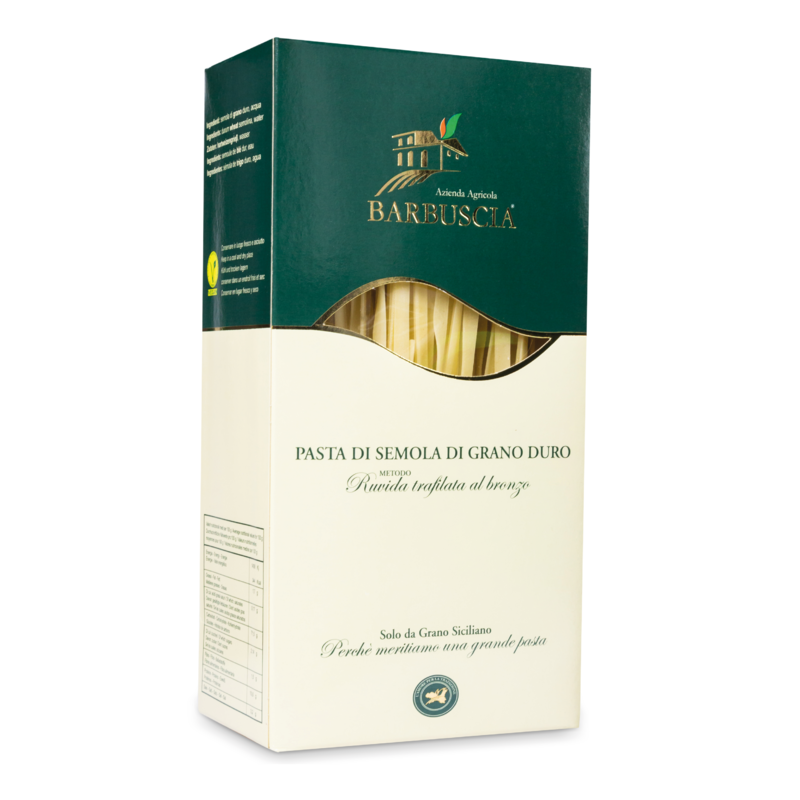 Tradition and innovation meet in our pasta bronze-drawn, made exclusively with wheat Sicilian durum wheat, grown and selected in the fertile and sunny lands of our island.
Bronze drawing gives each format of pasta a rough surface capable of retaining every seasoning, while the slow, artisan-style processing, guarantees an unparalleled hold during cooking.
An excellent pasta, in which to find all the flavor of Sicilian wheat, in different formats.
Download the pdf of the product data sheet
TAGLIATELLE
The most representative formats of the Italian and southern culinary tradition in particular, prepared only with the best Sicilian durum wheat.
Ingredients: durum wheat semolina, water.
Contain gluten.
The ingredients highlighted in bold are allergens (Reg. CE 1169/2011 art. 21.1.b).
Packaging: cardboard box.
Weight: 500 g.
Storage temperature: ambient.
Shelf life: 24 months from the date of production.
METHODS OF CONSERVATION
Avoid direct exposure to sunlight and store in a cool, dry place. The ideal temperature for its storage varies from 15 mid-cto 20 mid-c.
AVERAGE NUTRITIONAL VALUES per 100 g of product
Energy value:1438 kJ – 344 kcal
Fat content: 1,7 g
Saturated fatty acids: 0,17 g
Carbohydrates: 71,5 g
of which sugars 2,14 g
Proteins: 10.6 g
Salt: 3,2 g